Rope Access (UPseiling™) Painters In Sydney
At CPR Facade Upgrade Specialist, we access all hard-to-reach spots on your building, completing your painting services more effortlessly without sacrificing on quality. Our approach minimizes both time and risk, delivering a high-quality finish every time.
Rope Access (UPseiling™) Painting Services
Our team comprises a versatile and qualified workforce capable of tackling any obstacle with professionalism and quality. Utilizing the latest rope access technology in the industry, and a customer-centric approach, we are your go-to experts for rejuvenating the facade of your building.
Strata Residences
Opt for our high-quality painting services for your high-rise complex. With expertise in rope access techniques, we efficiently tackle height challenges. Collaborating with strata managers and owners, we ensure a smooth, disruption-minimized process for maximum quality.

Government Complexes
We have worked with various government departments to deliver high-quality rope access painting services for public buildings and infrastructure. We follow strict safety and quality standards and comply with all regulations and codes.

Commercial Properties
Specialized in painting diverse commercial buildings, including hospitals, shopping centers, hotels, and nursing homes. Our efficient rope access systems minimize noise, reduce security risks, and ensure shorter project durations for optimal results

Heritage Structures
We have the skills and knowledge to restore and preserve the heritage value of your building. We use methods and materials to match the original style and colour of your building. Our Scaffold-Free™ systems allow us to "tread lightly" on your buildings facade and surroundings.

Extended Warranty
We offer extended warranty on the application of your coating system, backed by leading manufacturers. Our team ensure that you can enjoy peace of mind knowing that your paintwork is covered for up to 15 years. We also provide ongoing maintenance .

What makes our UPseiling™ painting service different
Scaffold-Free™:
We use PEARS™ - the Portable Elevation Access Rope System - to access any area of your building without the need for noisy scaffolding. This means less disruption, less of a security risk, and less of an environmental impact.
Savings:
Our rope access, UPseiling™ system is more efficient and cost-effective than traditional methods. Save 10% or more on difficult to access buildings with extended warranty.
Lifetime Aftercare:
We care about client satisfaction and the longevity of your paintwork. That's why we offer external cleaning and maintenance on your property during the warranty period at a nominal cost.
Innovation:
We use the latest technology and techniques to deliver a flawless result. Our Encapsulated Twin Roll Spray Painting (ETRS) system developed in-house, prevents drips, splatter, and overspray during facade upgrade works.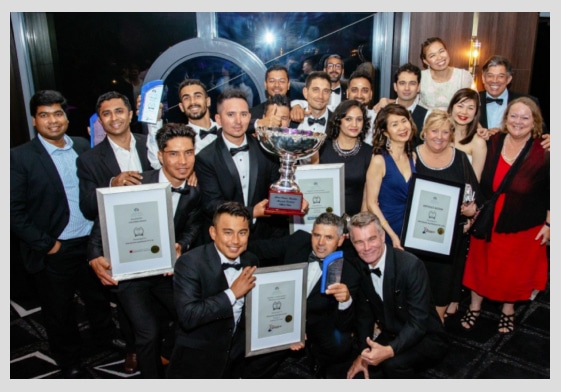 For over 30 years, CPR has been evolving and acquiring the knowledge and expertise which today make us leaders in difficult height access and trade services.
We establish direct partnerships with body corporate members, facility and hotel managers, strata personnel, and all other key stakeholders, leading to a continually expanding clientele who remain loyal to our services.
Master Painters Australia has recognized our expertise in challenging categories like difficult access, heritage and restoration, but we're most proud of the numerous times we've been awarded exceptional customer service, reflecting our commitment to people above all else.

On behalf of Peter A. - Committee Member of Birkenhead Quays I have been in the building industry industry for over 50 years, I have never seen a building of this size being completed two months ahead of schedule and under budget. Thanks to Vincent and Yusif they have been amazing. CPR team are true professionals with qualified trade people. Out of 148 apartments not 1 complaint. I would highly recommend them if you want friendly and hassle free servers.
Birkenhead Quays
2023-08-21
I am the Building Manager for Birkenhead Quays in Drummoyne NSW. I am absolutely thrilled to share my incredible experience with CPR! Every aspect of their work, from the initial consultation to the final brushstroke, exuded a sense of excellence. The attention to detail they displayed was remarkable; it was evident that they took great pride in delivering flawless results. What truly sets CPR apart is their commitment to understanding and meeting their clients' needs. They took the time to listen to our vision and preferences, incorporating them seamlessly into their approach. The final result was a masterpiece that exceeded all our expectations. Furthermore, their professionalism and punctuality were second to none. Deadlines were not only met but surpassed, showcasing their dedication to providing a seamless and stress-free experience. Their team worked efficiently and neatly, ensuring that our building was left even more immaculate than when they arrived. CPR is a shining beacon of excellence. If you're looking for a painting company that delivers unwavering professionalism, and a truly remarkable experience, look no further. I am beyond grateful for their exceptional work and can't recommend them highly enough. A big thank you to Vicente, Hussain, Namat, Yusif, Dinesh and Mark on this project. Sincerely, Danyelli Rosa - Birkenhead Quays
High quality work, customer-focused service, impressive outcomes. Project Manager Vicente Barba and his team were professional and responsive.
This company is outstanding!! So professional, such great communication, such clean, tidy and brilliant work painting our very high and large building with next to no disruption, hassle or inconvenience. I highly recommend this company. Fran
We live by the sea and CPR completed painting of the exterior of our Strata Building in 2015. Seven (7) years later, it still looks great.
Cannot fault this company. They were professional and polite and keep the occupants well informed as to their activities! Our building looks like new again. The employees are friendly and helpful.
We have just recently had our building facade painted by the team from CPR. The building was built in 1969 and is 8 stories in height - the abseiling worked perfectly for the job. Over 30 years I have been involved in many major projects and the guys from CPR were delightful to work with. The team was led by Vicente and nothing was a problem - the guys were always there to help. The response from other residents in the building is the same - everyone thought all the guys on the job were very friendly, punctual, polite and super obliging. The communications throughout the job was always open with weekly site meetings. We have had positive comments from many of our neighbours about the fantastic result and I would not hesitate to recommend CPR. Katrina
Renee Goossens
2022-05-24
Our experience with Facade upgrade specialists was excellent. The attention to detail wonderful. The entire performance was faultless. The team worked diligently with care and precision as they quietly abseiled down our building. It was a long job over two buildings but it was noteworthy that Abdul and his team worked long hours here. There were no raised voices and than goodness no loud radios. For fifteen months, partly due to Covid, our building seemed to be under siege. Scaffolding had been required by the noisy team who needed to remove then our combustible cladding. Having your Facade team was sheer delight after what had previously been a rude and noisy ordeal. Bravo to you all. Thanks for your good work.
Margaret Freemantle
2022-05-10
This company is so professional and passionate about their work, as well as being obliging and helpful. A pleasure to have this team painting our building. With thanks.
What to expect from CPR
Facade Upgrade Specialist
At CPR, we follow a simple and efficient process to ensure that your commercial painting project is completed on time and within budget. Our process includes: