Remedial Service In Sydney
Your building's facade is more than a good appearance. It is a vital part of your property's structure, performance, and value. A damaged or deteriorated facade can compromise the safety, functionality, and aesthetics of your building. At CPR Facade Upgrade Specialists, we are experts in providing high-quality remediation for high-rise infrastructure.
At CPR Facade Upgrade Specialists, we excel in delivering top-notch remedial services at heights. Our team possesses the expertise, hands-on experience, and cutting-edge equipment necessary to tackle remedial projects of any scale and complexity.
Steel Repairs
We can repair and restore the steel structures that support your facade, such as beams, columns, and frames. We can remove rust, corrosion, and damage, and apply protective coatings to prevent future deterioration.

Concrete Surface Repair
We fix defects like spalling, cracks, and delamination, addressing issues with precision. Our process includes removing damaged concrete, treating reinforcement, and applying a matching new layer.

Rust Removal and Prevention
We can deal with the rust that forms on your metal facade elements, such as cladding, railing, and roofing. We can remove the rust, treat the metal surface, and apply anti-rust paint or coating to prevent further oxidation.

Sealant Repair
We replace worn-out sealant in gaps and joints between windows, doors, panels, and tiles. Our process involves removing old sealant, cleaning surfaces, and applying new sealant with proper adhesion and elasticity.

What makes our remedial service different
Experience:
We have been in the remedial building industry since 1993, and we have completed over 273 major projects in the same period. We have a team of engineers, builders, tradesmen, and support staff who have the expertise and professionalism to deliver the right solution for any facade issue. We also have a proven track record of customer satisfaction and industry recognition, as we have won multiple awards from the Master Painters Association for our craftsmanship and customer service.
Quality:
We are committed to delivering high-quality workmanship and results for every project we undertake. We use only the best materials and equipment to ensure durability and performance. We also follow strict quality standards and procedures to ensure compliance and safety. We guarantee our work with a warranty and offer ongoing maintenance services.
Speed:
We understand that time is money and that you want your facade upgrade project to be completed as soon as possible. That's why we use our innovative and patented technology to deliver our services with increased efficiency and speed. Our PEARS™ and SkyPod™ workstations allow us to work without scaffolding, which reduces noise, inconvenience, security risk, and cost for you. We also ensure minimal disruption to your building's occupants and operations.
Trust:
We are a trusted and reliable partner for your facade upgrade project. We offer transparent and competitive pricing, with no hidden fees or charges. We also communicate clearly and regularly with you throughout the project, keeping you informed of the progress and any issues that may arise. We respect your property and privacy, and we clean up after ourselves when we finish our work.
Innovation:
We are always looking for new ways to improve our services and offer you the best solutions for your facade upgrade needs. We are the pioneers of the PEARS™ and SkyPod™ workstations, which are revolutionary scaffold-free access systems for exterior remedial works. These systems allow us to work at any height with increased safety, efficiency, speed, and quality. They also have a very small carbon footprint, which makes them more environmentally friendly and sustainable.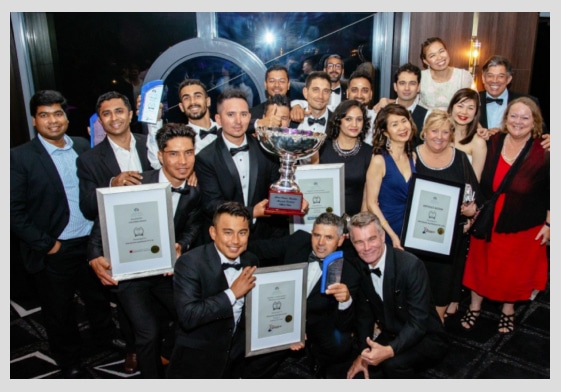 For over 30 years, CPR has been evolving and acquiring the knowledge and expertise which today make us leaders in difficult height access and trade services.
We establish direct partnerships with body corporate members, facility and hotel managers, strata personnel, and all other key stakeholders, leading to a continually expanding clientele who remain loyal to our services.
Master Painters Australia has recognized our expertise in challenging categories like difficult access, heritage and restoration, but we're most proud of the numerous times we've been awarded exceptional customer service, reflecting our commitment to people above all else.

On behalf of Peter A. - Committee Member of Birkenhead Quays I have been in the building industry industry for over 50 years, I have never seen a building of this size being completed two months ahead of schedule and under budget. Thanks to Vincent and Yusif they have been amazing. CPR team are true professionals with qualified trade people. Out of 148 apartments not 1 complaint. I would highly recommend them if you want friendly and hassle free servers.
Birkenhead Quays
2023-08-21
I am the Building Manager for Birkenhead Quays in Drummoyne NSW. I am absolutely thrilled to share my incredible experience with CPR! Every aspect of their work, from the initial consultation to the final brushstroke, exuded a sense of excellence. The attention to detail they displayed was remarkable; it was evident that they took great pride in delivering flawless results. What truly sets CPR apart is their commitment to understanding and meeting their clients' needs. They took the time to listen to our vision and preferences, incorporating them seamlessly into their approach. The final result was a masterpiece that exceeded all our expectations. Furthermore, their professionalism and punctuality were second to none. Deadlines were not only met but surpassed, showcasing their dedication to providing a seamless and stress-free experience. Their team worked efficiently and neatly, ensuring that our building was left even more immaculate than when they arrived. CPR is a shining beacon of excellence. If you're looking for a painting company that delivers unwavering professionalism, and a truly remarkable experience, look no further. I am beyond grateful for their exceptional work and can't recommend them highly enough. A big thank you to Vicente, Hussain, Namat, Yusif, Dinesh and Mark on this project. Sincerely, Danyelli Rosa - Birkenhead Quays
High quality work, customer-focused service, impressive outcomes. Project Manager Vicente Barba and his team were professional and responsive.
This company is outstanding!! So professional, such great communication, such clean, tidy and brilliant work painting our very high and large building with next to no disruption, hassle or inconvenience. I highly recommend this company. Fran
We live by the sea and CPR completed painting of the exterior of our Strata Building in 2015. Seven (7) years later, it still looks great.
Cannot fault this company. They were professional and polite and keep the occupants well informed as to their activities! Our building looks like new again. The employees are friendly and helpful.
We have just recently had our building facade painted by the team from CPR. The building was built in 1969 and is 8 stories in height - the abseiling worked perfectly for the job. Over 30 years I have been involved in many major projects and the guys from CPR were delightful to work with. The team was led by Vicente and nothing was a problem - the guys were always there to help. The response from other residents in the building is the same - everyone thought all the guys on the job were very friendly, punctual, polite and super obliging. The communications throughout the job was always open with weekly site meetings. We have had positive comments from many of our neighbours about the fantastic result and I would not hesitate to recommend CPR. Katrina
Renee Goossens
2022-05-24
Our experience with Facade upgrade specialists was excellent. The attention to detail wonderful. The entire performance was faultless. The team worked diligently with care and precision as they quietly abseiled down our building. It was a long job over two buildings but it was noteworthy that Abdul and his team worked long hours here. There were no raised voices and than goodness no loud radios. For fifteen months, partly due to Covid, our building seemed to be under siege. Scaffolding had been required by the noisy team who needed to remove then our combustible cladding. Having your Facade team was sheer delight after what had previously been a rude and noisy ordeal. Bravo to you all. Thanks for your good work.
Margaret Freemantle
2022-05-10
This company is so professional and passionate about their work, as well as being obliging and helpful. A pleasure to have this team painting our building. With thanks.
What to expect from CPR
Facade Upgrade Specialist
At CPR, we follow a simple and efficient process to ensure that your commercial painting project is completed on time and within budget. Our process includes: